Once we released major update in Piano Companion for iPhone/iPod/iPad, lots of you asked to implement the same functionality for Piano Companion for Android.
Starting with version 4.2, scale details screen has common supported chords. Moreover, it lists main analytical labels: Secondary Dominant and Secondary Leading-Tone to get even deeper overview of the scale. We ported colouring engine from Songtive app so chords are highlighted according to their root note. Take a look at D Minor scale chords: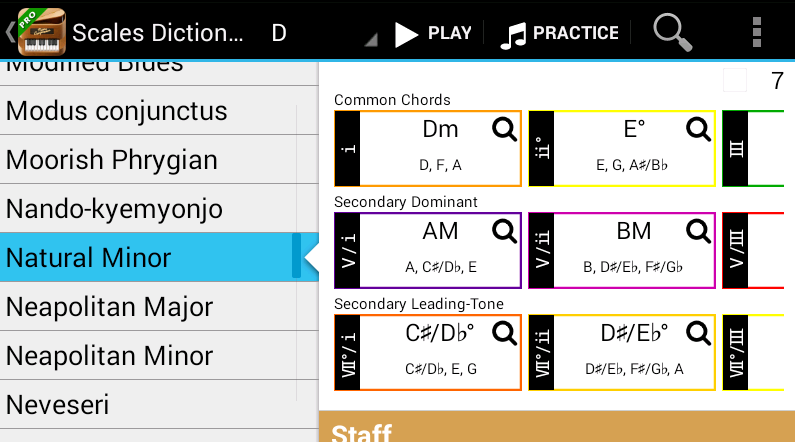 The same scale chords are integrated into Chord Progressions screen where you can switch specific scale and add a scale chord without switching between multiple screens.
The whole December we were working hard to redesign our audio engine to be used in both products: Songtive and Piano Companion for Android and now we are happy to announce that starting with that version most of issues were finally resolved: fixed static sounds issues, performance issues, distortion sound, issues related to Android 5.0! Let us know if you have an exotic device and still experience issues related to sound, we would be happy to resolve it for you too.
What does it mean for our users? Well, we were able to add multi-touch piano keyboard for chord/scale/circle of fifths details screen. You can tap on a highlighted key and hear how it sounds. Reverse chord/scale lookup screens have playable piano keyboard too.
New engine helps us to implement low-latency Piano screen which in turn allows you to connect USB MIDI keyboard and continue using Piano screen as sound engine. It also resolves most of sync issues for Chord Progression screen.
Hope you like it and don't hesitate to contact us if you have any questions. See you next year!